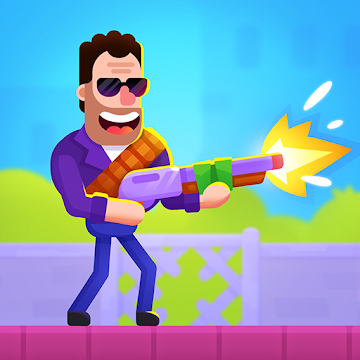 Author:
Playgendary Limited
Astrosnout.com is not an official representative or the developer of this application. Copyrighted materials belong to their respective owners
Hitmasters
Hitmasters is an action and puzzle game developed by Playgendary. It was released on December 30, 2019.
What is Hitmasters Game About?
Hitmasters is an updated version of the classic physics puzzle genre, but with an emphasis on action. The player controls a stationary killer with a weapon, whose goal is to clear each level of bad guys. You may attain this in many different ways. For example, you can shoot various explosives or other objects in various physics-based puzzles. The levels start out quite simply, but, unfortunately, they remain uncomplicated. There is nothing wrong with that if you are looking for a game to play for an hour or two and relax.
Hitmasters Visuals
What's really impressive is the amount of effort that Playgendary Limited has put into specific features. The visuals, character designs, and original music are all unique, fun and totally wonderful. You will be especially touched by the cute little dance and the emotions that your killer can perform during downtime.
In addition, there are dozens of unlockable skins for both hitman and weapon, almost entirely made up of generic versions of pop culture icons. The fascination of shooting people with a portal pistol, like "Gordon Freeman" or "Batman", of course, will not pass you by.
Hitmasters Gameplay
In Hitmasters game, all you have to is to walk around and shoot bad guys. To do this, the game provides you with a variety of weapon skins, your personal room where you can customize the character, and many levels to complete. You will feel like a real 007 agent on a mission, or Iron Man defeating bad guys. By the way, you can get new skins for your character by just watching the ad on the menu. The skins collection in Hitmasters is really huge. The game is cool, however many users say that it has too many ads, and it worsens the whole game experience.
Each level gives you a certain amount of chances to complete it. It's easy to play, and it feels like a cool game to enjoy when you want to relax. The combination of simple gameplay and original visual style makes Hitmasters stand out from its rivals of the same genre.
Pros
Cool graphics;
Free weapon skins;
Many levels to complete;
Simple gameplay;
Cons