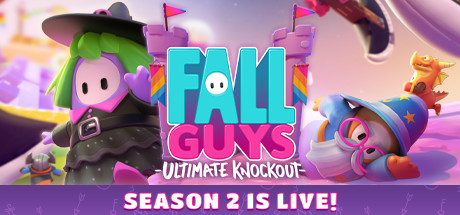 Fall Guys: Ultimate Knockout
Astrosnout.com is not an official representative or the developer of this application. Copyrighted materials belong to their respective owners
Fall Guys: Ultimate Knockout
Fall Guys: Ultimate Knockout is a game produced and dropped by Mediatonic studio. The project instantly gained immense popularity, but what is the secret of its success and how long will this last?
What is Fall Guys: Ultimate Knockout About?
So, why did the project deserve so much attention? Fall Guys is a collection of mini-games in which players compete against each other in insanely silly contests. During the match, they have to go through several tests. The number of participants changes was you complete tasks. At first, there are 60 participants, but after the first tasks, 20 players will be eliminated, and it will decrease until you reach the final round.
After the release of Fall Guys: Ultimate Knockout, the project quickly climbed to the top of the charts on Steam and Twitch, and it even left behind such mastodons as Warframe and Destiny 2 for a while. And since the authors of the project did not expect so much popularity, they had to temporarily disable games and suspend registration for new accounts in order to get the servers up and running.
Fall Guys: Ultimate Knockout Gameplay
When you first enter Fall Guys: Ultimate Knockout, it turns out that the game has obscenely simple gameplay. Playing as a walking jelly man, you need to take part in competitions, which mostly resemble crazy Japanese-style shows. The bottom line is that each in-game match is divided into several rounds, and each of them not only takes place in a random location but also includes random challenges. For example, somewhere you just need to get to the finish line first, that is, to run a race, and somewhere to overcome obstacles, although this is only a tiny part of what happens in Fall Guys: Ultimate Knockout.
There are challenges in two types: races and arenas. In races players must run from start to finish, overcoming various obstacles. The winners are people that are among the very first to cross the finish line. In arenas, the players are assigned a variety of tasks. This can be, for example, football, where the participants, divided into teams, try to drive the ball into the opponent's goal; the losing team is eliminated. There's also a location with rings that you have to jump into, like in a circus, to earn points for your team. You will also find a map with platforms located one above the other, which consist of collapsing cells: here you need to hold out longer than opponents, while the platforms literally disappear under your feet.
The runs are short and chaotic, the picture is bright, and the animations of ridiculous falls are very funny. It does not require you to use any cunning tactics: everyone is on an equal footing, and you cannot beat your opponents by using cheats. The fun can be overshadowed only by periodic disconnections: the developers did not foresee such an influx of players, and therefore the app occasionally crashes in the middle of matches.
Pros
Chaotic but fun gameplay;
Bright picture;
Large selection of modes;
Quick selection of opponents for matches;
Cons