Are you an avid fan of Anno, the beloved strategy game about building cities? If so, you're probably in need of something new and exciting. Lucky for you, there are plenty of games like Anno that will allow you to spend hours of fun and enjoyment. From classic RTSs to more modern village simulation games, these games offer a variety of experiences that won't keep you bored! Let's take a look at some of the best Anno alternatives on the market today.
Banished
First, Banished is a city-building simulator with a unique twist. In this game, players must manage their own settlement, managing resources and making sure everyone has enough food and shelter. The key difference between Banished and other similar games is its focus on survival rather than growth; it's not just about building large cities but taking care of them over time. So you'll have to make difficult decisions regarding food production, trading goods with neighboring settlements, and dealing with disasters such as drought or disease outbreaks.
Tropico 6
Next, we have Tropico 6 from Kalypso Media Digital. In this installment of the popular franchise, players will rule a small Caribbean island nation as president - and they'll have even more responsibility than before! Tropico 6 retains many elements from past installments, such as building customization and establishing laws, but adds additional features, such as multiplayer support (up to 4 players) and cooperative missions where everyone can build together to achieve common goals. With detailed graphics and deep but easy-to-learn gameplay mechanics, Tropico 6 is definitely a step above its predecessors – it's a must-try for any fan of city-building simulations!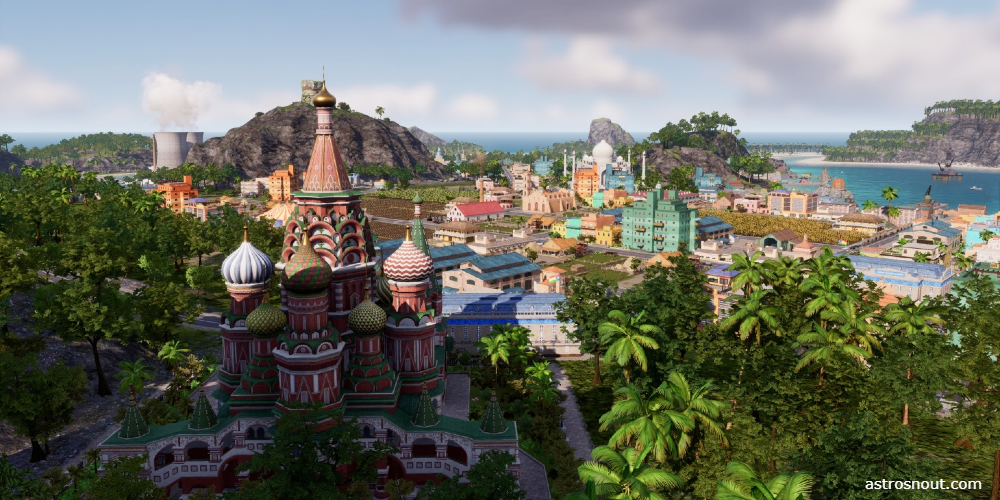 Supreme Commander
If real-time strategy (RTS) is more your style, Supreme Commander 2 might be just what you need! Developed by Gas Powered Games back in 2010, this game allows gamers to wage war on huge maps filled with high-tech units ranging from infantry squads to giant swords called "experimental units." Players can choose which faction they want to control (each has its own strengths and weaknesses), making each match truly unique! Despite being almost 10 years old, Supreme Commander 2 still ranks well among modern games for its depth and difficulty, as well as its stunning visuals and sound design - it's worth trying again if you haven't done so already!
The Settlers 7: Paths To A Kingdom
This product by Ubisoft Blue Byte Studio offers an incredible experience that combines elements of both traditional RTS games and city-builders. As is expected in any good version of Settlers, players must gather resources and build buildings, as well as fight enemies to expand the borders of their kingdom, but thanks to the new features added in this iteration, the game doesn't get boring quickly, as each mission has multiple objectives, making it possible to replay not just by following the steps set by the developers themselves!
SimCity 4 Deluxe Edition
For those who want a city-builder simulation without too much pressure on themselves, SimCity 4 Deluxe Edition by Maxis Software might be the perfect option. Unlike most other games on this list, SimCity 4 is completely free of combat and focuses solely on developing urban areas through residential/commercial zoning, assigning police stations, hospitals, etc. All of these aspects are interconnected, which means the wrong decisions can lead an entire city to destruction. Fortunately, the built-in tutorials help beginners understand the basics fairly quickly, making the learning curve manageable even for beginners!
Dawn Of Discovery Gold Edition
Moving on to the lesser-known part, we find Dawn Of Discovery Gold Edition, created by German studio Related Designs, which gives us the opportunity to explore the world of the Mediterranean Sea during the exploration of 14th-century Europe. The gameplay focuses mainly on building ships, trade routes between different ports, gathering resources, developing villages, etc. While the biggest attraction here is the ability to interact directly with citizens through "Royal Edicts," thus affecting their daily lives either positively or negatively, depending on how the player chooses to act... Sure, it's not a groundbreaking concept, but it certainly adds a depth of layering that the genre often lacks!
Age of Empires II HD Edition
If there's one title that immediately springs to mind when thinking about alternative games like Anno, it's Age of Empires II HD Edition. This classic game stands apart with its focus on military conquest instead of city building. As you progress through different campaigns and skirmishes, you'll build an empire by collecting resources and recruiting armies to take down your opponents. The HD edition also comes bundled with enhancements such as updated visuals and online multiplayer support.
Cities: Skylines
Cities: Skylines also offers gamers a chance at becoming urban architects akin to those found in Anno titles – only this time around, they get much more control over what goes into creating their dream cities! Developed by Colossal Order Ltd., this highly acclaimed release provides players with tons of freedom when it comes to designing custom districts, optimizing traffic flows, and enacting policies & laws – all while ensuring that citizens are happy enough not to rebel against your rule (which really wouldn't be good for business). With its deep simulation mechanics & great modding tools, Cities: Skylines is sure to give builders hours upon hours worth of enjoyment as they watch their metropolis grow before their eyes.
So if you want to revisit the classics and try something completely new, hopefully, we've provided enough options above to meet the needs of every type of gamer! Now all that's left is to choose your favorite game and start playing.