Mario is still the world's favorite plumber. After a sealed copy of Super Mario Bros. for NES sells for $660K, we must acknowledge that the mustached Italian is no less than an idol. No more is he (and his brother Luigi as well) tied to platformers: the familiar face appears in games of various genres.
It's time to select the best Mario-themed games for Nintendo Switch; Nintendo's Mario is the true Mario, all the other Marios are just imitating. We'll leave outside all the crossovers (like Super Smash Bros. or Mario + Rabbids® Kingdom Battle) and only focus on official titles. Which is the best for having fun with the brothers we adore?
Arcade Archives Mario Bros.
Despite the classical status and millions of fans, this collection may look obsolete now – and, in fairness, it is. But, on the other hand, how else can a millennial player get a hold on the original Mario games that were only available on arcade machines?
In terms of visuals, they are just as simple as one might expect from 1980s' relics. The gameplay, though, may differ from the platformers we are familiar with. Did you know that first Mario did not have to jump on his enemies, but hit the platform with his head from right below? To make the gameplay more fun, the updated version has various modes. Still, fun as it is, this title is more of a historical value.
Mario Kart 8 Deluxe
The port of a classical Wii U game looks just as great on Switch. A racing adventure of Mario is even more dynamic than a classical side-scroller, and, given the variety of tracks and characters, it's way more diverse. Its fast gameplay requires instant response and keeps you all strained up until the end of the track.
Tastes better when together: Mario Kart 8 Deluxe supports up to 4 players in local multiplayer on one device. You only need an extra pair of Joy-Cons. Up to 8 players can bring their own Switches – and, heck, it's gonna be a Donkey Kong of a party.
Super Mario Maker™ 2
A level editor! That's a dream of those old school fans who learned the original games inside out and wanted more of this cool stuff; now players can contribute themselves. This is a classical game combined with a level editor that allows anyone to create new courses, and other players can download and play them.
In the XXI century, the visuals may seem a bit too… "classical", okay. It's still that good old 2D side-scrolling platformer, with 8-bit sounds and square bricks. On the other hand, if Minecraft and Roblox are using this style, why can't a way older Mario get what's his?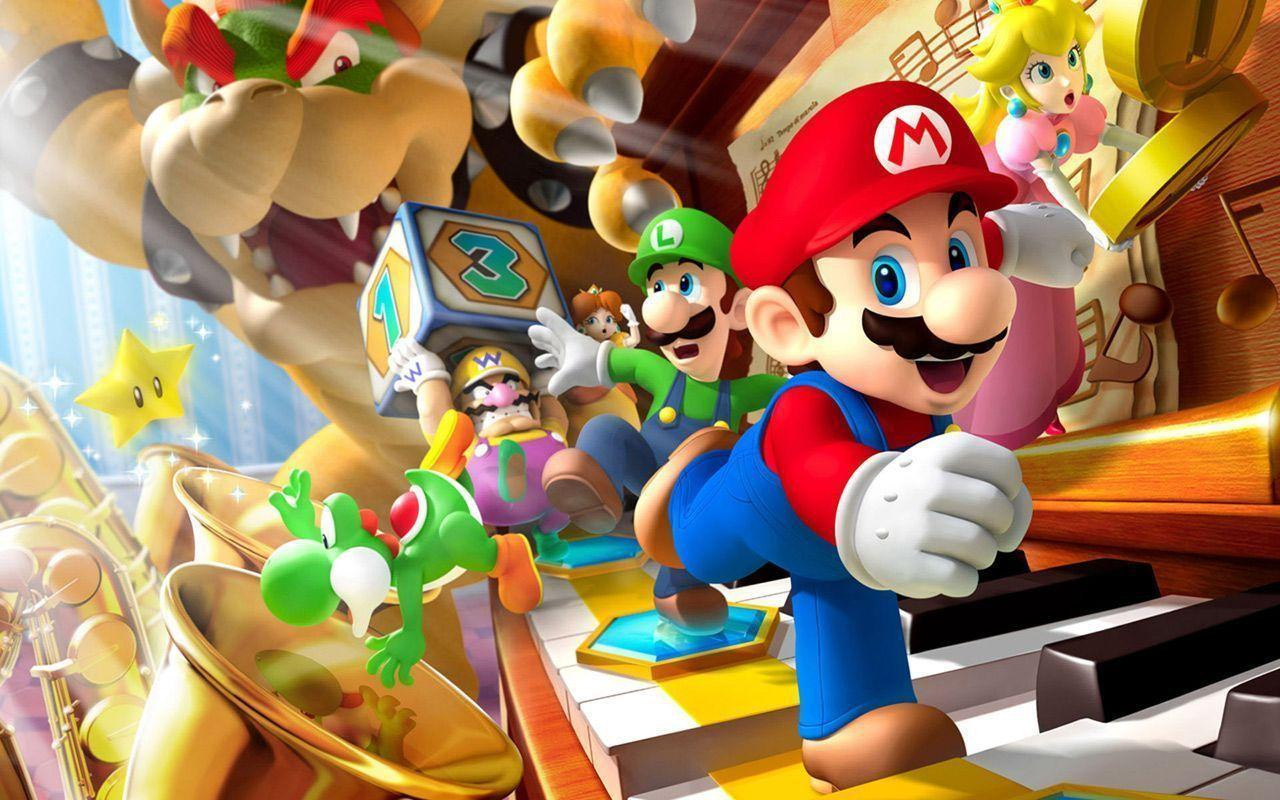 Super Mario™ 3D World + Bowser's Fury
Basically a remake of a Wii U game again, this 3D platformer is quite diverse, with an unexpected twist in each level. Being a 3D platformer does not mean just a version of 2D, but in 3D. No, there is so much inventiveness in disappearing platforms, musical rhythms, unusual mazes, invisible elements, and incessant explorative approach required through the game.
In this version, the classical Super Mario™ 3D World is accompanied with Bowser's Fury, an extension almost as long as the basic game itself. It's full of new puzzles and hidden collectibles and requires the same level of thinking.
Super Mario Odyssey
Some call it the maddest Mario game ever, and it's true. Retaining the core of what we love Mario for (platforms, coins, turtles, and all this legendarium), Odyssey leads us through more and more weird spaces, surprises at each new turn, and stuns with new mechanics and abilities.
It has everything we loved about Mario in all these decades, but in Odyssey, the combination of eternal creative values and up-to-date looks works perfectly. In addition, there is a magic hat Cappy that reinvents the entire system of power-ups, and it's already a great reason to play it!
We have skipped great titles like Paper Mario™: The Origami King (strange but original), Super Mario Party™ with its wealth of mini games, and some more titles. In fact, each of them will find its advocates if necessary. And which one is your favorite? Drop the name in a comment!