Top New Games of October 2019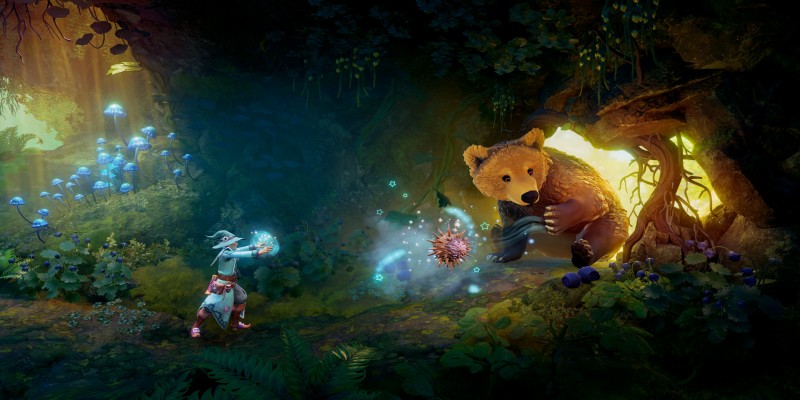 Each week there are premieres, sequels, remakes, re-releases, and other titles that can be promoted as "new." Some are only made for one platform exclusively, and others try to cover all of them. We have selected the ones we consider the top for early October (though – a spoiler – none of them is a potential blockbuster, mostly being indie titles, all of them quite decent).
That means that all of these games deliver a good bang for the buck, and they won't require that much time to consider, even if you're not settling for just one of them. We'll see visual experiments, returning to the classics and revamping the classics, and strange genre mixes. There is even a strange creative adventure where your weapon is drawing. But let's take a closer look at each of them.
Yooka-Laylee and the Impossible Lair
PS4, Xbox One, PC, Switch
It's the sequel of Yooka-Laylee (that's how a ukulele pronounced correctly may inspire!), one of the best platformers of 2017. Again a chameleon and a bat form a duo to challenge Captain B, the villain of the series, and to reach the Impossible Lair. A spoiler: if you go through all the levels, it gets much more possible.
As for genre, it's a 2.5D platformer (unlike the original that was made in 3D), and it reminds the Donkey Kong Country the most. This is one of those games where you can proceed straight to the final with your characters Yooka and Laylee, but you better collect the bonuses you can find on your way). The game is already critically acclaimed and popular among players. It takes both movement skills and puzzle-solving to go through, and the combination is great.
Concrete Genie
PS4
Well, though your character's name is Ash, it has nothing to do with the Evil Dead, but there will be enough of the evil living. It's a creative indie adventure, where the protagonist, an urban painter, loses his town to a deep, hungry Darkness. It's the power of the art that helps him to overcome the curse and get your city back. The creatures you draw come to life, as your genies, and help you against the enemy.
Nom the game doesn't require good painting skills. It's all emulated, and the further you proceed, the more genies to draw you unlock. Neither is the game drawn in a luxury mode, despite its idea: it's an indie release. Still, it's one of the most amazing games of this fall. Instead, if you have a PlayStation VR, you'll appreciate Concrete Genie with it even more.
Indivisible
PS4, Xbox One, PC, Switch
If you make a cocktail, you cannot split it back: you can only drink it and enjoy. The same story is with Indivisible, a rich fantasy cocktail of various genres and styles, from RPG and strategy to a platformer. The same is with its narrative and visuals, also woven from various cultures, eras, and mythologies. There is not enough space to tell the entire story, so just enjoy its anime-styled visuals and wild fantasy inspired by this. If you liked Skullgirls, you will just fall in love with Indivisible.
Trine 4: The Nightmare Prince
PS4, Xbox One, PC, Switch
It's the same story that we have seen with Yooka-Leylee: the previous game was quite 3D, and then the developers squeeze it down to 2.5D. But still, here come our favorite heroes of the series again. Now Pontius the Knight, Zoya the Thief, and Amadeus the Wizard are here on the way. The Nightmare Prince is here to shadow the whole world, and it takes three heroes to hold him back.
It's a puzzle platformer again, and it's about skill and wit equally. Nightmares of the prince are coming alive when he dreams them, so anything is possible. There won't be illogical decisions to make, but the situations provide absurd enough unchained imagination. Can you see that in such a detailed world that Trine usually delivers? If not, go and get it.
Killer Queen Black
PC, Switch
The original Killer Queen was an arcade game in its strictest meaning: it was made for arcade machines. It took you to the microworld of insects, with their own wars and adventures. Now there is a home version released, both for PC and for Nintendo Switch, with multiplayer features. Its visuals still remind the Golden Age, but the gameplay is updated to fit 2019.
There are three ways for your team to win: reach the goal with a snail, score enough kills of the enemy queen, or just collect a certain number of berries. These aims can be reached in a team or in a single-player mode. With the 1980s looks and quite a modern gameplay, it's a potential niche hit.
Did We Miss Something?
There are more games released each week, and we'll certainly cover most of them. But even these are enough to provide fun to game fans this October.